Due to scheduled maintenance, the system will be unavailable beginning 6:00 PM Friday November 4, 2022, until 8:00 AM Monday November 7, 2022
All self-service (employee and administrative) will be unavailable during this time.
This includes:
Absence Management
Time & Labor (Student/Hourly)
ETRAC
LCD
Address Changes for 2022 Tax Information
Tax season is around the corner and HR is committed to making sure you have the appropriate documents to file your taxes. Each year, the State Controller's Office (SCO) mails W2 forms to the employee's current mailing address in the system.
You may review your current mailing address at the page below through Cal Employee Connect (CEC).  If you haven't had a chance to register to the CEC website, please refer to the CEC User's Guide for detailed instructions.
If your current address is different than what is on CEC, it is important to update your address in the system so that your 2022 W2 form will be mailed to the correct address.
The deadline for submitting address changes is Friday, Dec. 9.
To update the home (W2 mailing) address on file:
For current employees, please 
Enter your SF State ID and password
Choose the "Employee Services tab"
Click "HR Self Services"
Then click "My Personal Information"
Under "My Home Address"
Update your information, click "Save" and then log out
Submit the completed form either by mail or in person to:
                 San Francisco State University
                 1600 Holloway, ADM 252
                 San Francisco, CA 94132
Contact your department's Payroll representative or Human Resources Payroll staff for answers to question(s) regarding address changes.
Thanks,
Payroll Services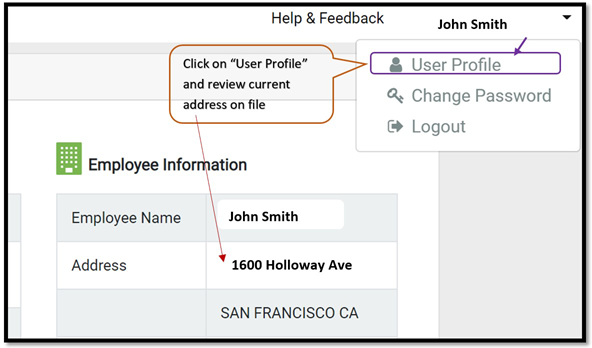 In October 2021, the U.S. Department of Education announced a change to the Public Service Loan Forgiveness (PSLF) program rules for a limited time as a result of the COVID-19 national emergency. Millions of non-profit and government employees have federal student loans and may now be eligible for loan forgiveness or additional credit through the limited PSLF waiver. But you need to act fast. The special waiver expires October 31, 2022. 
Submit requests to San Francisco State Human Resources by October 3, 2022, to help you meet the submittal deadline.
Visit SF State - Public Service Loan Forgiveness (PSLF) - Employment Certification - for submission guidelines.